Titan Forklifts has designed many accessories that operators love. Sometimes it is the small, thoughtful modification that can take an operators experience from good to great. At Titan, we continuously strive to bring you accessories that help make your business more efficient, safer, and better overall.
Standard Accessories
Suspension Seat
Comfortable suspension seating for continuous operation. Removable load backrest is made from heavy 3/8' steel, offering increased protection and comfort.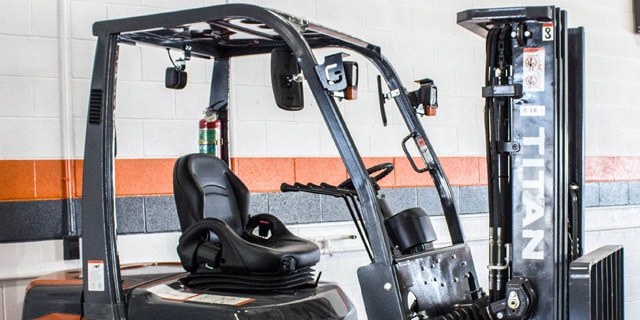 Ergonomic Pedals
The pedal lengths are cut down to improve legroom and make operating the lift truck as comfortable as possible.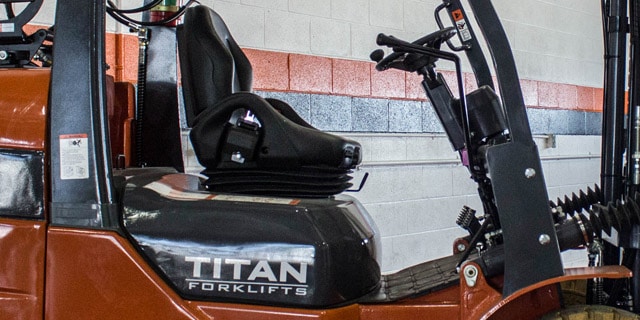 Swing-Out Drop-Down Propane Tank Bracket
Changing propane tanks can be difficult for smaller operators. The swing-out, drop-down propane tank bracket lets operators load a tank much lower off the ground, rather than having to lift a tank above their shoulders and risk injury.
Up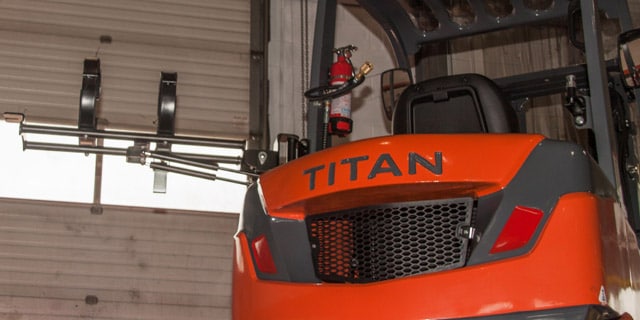 Down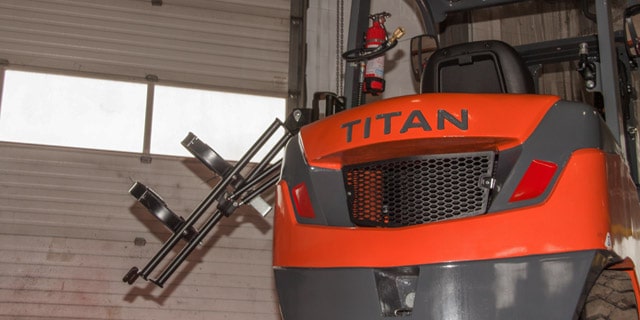 Back Up Horn & Handle
Each backup handle is complete with an integrated horn. This allows each operator to sound the horn without having to remove their hand from the safety handle.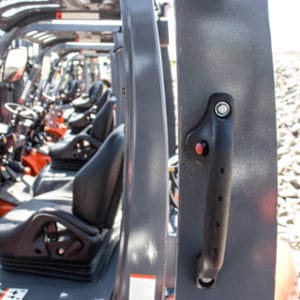 LED Working Lights, Rear Strobe Light & Light Bar
All Titan forklifts are equipped with the best LED lighting available and are shielded with heavy duty metal brackets and cover.

Overhead Heavy-Duty Roof Protection with Sky Light
Strong overhead protection for improved safety and visibility during operation.

Heavy-Duty Backrest
Reduce the possibility of damage while transporting heavy loads.

Tilt Cylinder Rubber Boots Cover
Tilt cylinders are fitted with protective rubber boots to prevent damage.

Reinforced Protective Guard Over Front Mast Hydraulic Hose Block
This solution prevents sheared hoses and costly time-consuming repairs.

Optional Accessories
Enclosed Cab with Heat, Defrost & Wipers
Options for all-weather outdoor conditions.

Cascade Side Shift
Quality built side shifters from Cascade are precise and durable.